Vision Developments - Equality - Integrity - Trust
Be the architect...of your own future
---
Top Navigation
---
---
Newsletter Subscribe
To receive our monthly newsletter containing the latest market information, tips and construction reports, please enter your name and email address below and click the submit button:
---
St Kilda Member Offer
Vision Developments is proud to announce its corporate partnership with the St Kilda Football Club for the 2005 AFL premiership season.
Click here to read more
---
Current Developments
Are you struggling to save a deposit for a home of your own? Vision Developments is now offering Melbourne First Home Buyers a market first opportunity: to purchase a new home, with very little or no deposit, in an established area. Click here to find out more.
Looking for an exceptional investment opportunity? Are you interested in up to $70,000 of unlocked equity? Click here to find out more about how a Vision Developments investment can benefit you...
At Vision Developments our philosophy has always been to build long-term relationships with our clients and become their partner in the creation of wealth. We do this by acting as an educator and facilitator in helping you to achieve your investment and lifestyle goals. Click here to find out what makes Vision unique.
---
Current Development Opportunities

These innovative architecturally designed apartments include one, two and three bedrooms.

This innovative apartment development comprises twenty stunning architecturally designed apartments.

This 22 Townhouse site comprises two, three and four bedroom single and double story homes.

A contemporary styled three-storey residential apartment building to comprise of fifteen apartments and a basement level car park.

Four luxury townhouses including three 3 bedroom houses and one 2 bedroom house.
---
1 Kelba St, Nth Balwyn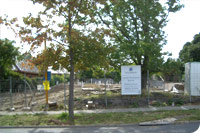 1 Kelba Street comprises of three modern townhouses, offering 3 bedrooms with all the finest quality fittings and features. The townhouses will have added features like electronic bath and shower temperature controls and elegant kitchen glass splashbacks. This project is under construction.
This project comprises of three modern townhouses, offering 3 bedrooms with all the finest quality fittings and features. Construction is ready to commence, with the builders completing pipes and slabs prior to Christmas. The project has been completely pre-sold.