Vision Developments - Equality - Integrity - Trust
Be the architect...of your own future
---
Top Navigation
---
---
Newsletter Subscribe
To receive our monthly newsletter containing the latest market information, tips and construction reports, please enter your name and email address below and click the submit button:
---
St Kilda Member Offer
Vision Developments is proud to announce its corporate partnership with the St Kilda Football Club for the 2005 AFL premiership season.
Click here to read more
---
Property Investment
Interested in property with immediate equity?
Unlike most other developers, Vision Developments shares the profits from our developments, providing our investors with immediate benefits. We do this because our aim is to build win-win relationships with our clients that provide long term advantages for both parties. For more details please click here
Client Education & Information Sessions
Vision Developments is currently holding a range of information sessions for investors and potential investors. This service is an integral part of our goal to become an educator and facilitator to our clients, helping them to achieve their investment and lifestyle goals. For more details about these sessions please click here.
Complimentary Investor DVD or CD-ROM
Are you interested in knowing more about the importance of building wealth for your financial future? Would you like to know more about Visions' immediate equity offer? This DVD outlines these topics and more. Click here to request your complimentary copy.
---
INVESTORS & OWNER OCCUPIERS
LOOKING FOR AN EXCEPTIONAL INVESTMENT OPPORTUNITY? ARE YOU INTERESTED IN UP TO $70,000* OF IMMEDIATE EQUITY? CONTACT US TODAY ON 9880 7155 TO FIND OUT HOW ONE OF OUR INVESTMENTS CAN BENEFIT YOU.
---
Why Invest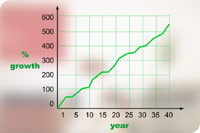 Historically property has doubled every 7 - 10 years over the past 140 years. This is a growth rate of approximately 8% per annum.
As an example, and taking into account the historical property growth average of 8% per annum, a property valued at $300,000 today should be worth approximately $2.05 million in 25 years time.
Another reason to invest in property is that the Government provides a number of attractive tax benefits for property investors. In addition to this, banks will more often provide a higher level of borrowing for property rarely seen in other investments like shares and managed funds. This gives you the potential to achieve greater returns, because of the increased leverage. This means that you may require a smaller amount of funds to put into the property upfront.
A simplified example of this is illustrated here (excluding transaction costs, capital gains tax and other fees and charges):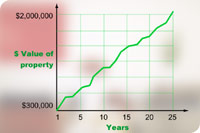 If you purchased a $100,000 cashflow neutral property and only put 5% (or $5,000) into the investment and the property grew by 5% p.a. for 2 years, it would be worth $110,000. This is a 100% p.a. growth on your $5000. If, on the other hand, lets say you purchased $100,000 in shares and were able to borrow an exceptionally high 80% to the value of the shares (which means you put 20% or $20,000 into the deal). If they grew by 10% p.a. for 2 years, the portfolio would be worth $120,000. This is a 50% p.a. growth on your $20,000.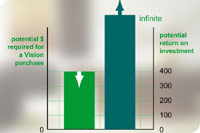 This illustrates that even in a slow market, if you purchase wisely and utilise leverage, you can still achieve a better return on investment with property in a market where shares may be outperforming property. Further to this, it should be considered that the property market has outperformed shares over the last 10 and 20-year periods, with a lower risk rating than shares.
Property it just makes sense…!