Vision Developments - Equality - Integrity - Trust
Be the architect...of your own future
---
Top Navigation
---
---
Newsletter Subscribe
To receive our monthly newsletter containing the latest market information, tips and construction reports, please enter your name and email address below and click the submit button:
---
St Kilda Member Offer
Vision Developments is proud to announce its corporate partnership with the St Kilda Football Club for the 2005 AFL premiership season.
Click here to read more
---
Property Investment
Interested in property with immediate equity?
Unlike most other developers, Vision Developments shares the profits from our developments, providing our investors with immediate benefits. We do this because our aim is to build win-win relationships with our clients that provide long term advantages for both parties. For more details please click here
Client Education & Information Sessions
Vision Developments is currently holding a range of information sessions for investors and potential investors. This service is an integral part of our goal to become an educator and facilitator to our clients, helping them to achieve their investment and lifestyle goals. For more details about these sessions please click here.
Complimentary Investor DVD or CD-ROM
Are you interested in knowing more about the importance of building wealth for your financial future? Would you like to know more about Visions' immediate equity offer? This DVD outlines these topics and more. Click here to request your complimentary copy.
---
INVESTORS & OWNER OCCUPIERS
LOOKING FOR AN EXCEPTIONAL INVESTMENT OPPORTUNITY? ARE YOU INTERESTED IN UP TO $70,000* OF IMMEDIATE EQUITY? CONTACT US TODAY ON 9880 7155 TO FIND OUT HOW ONE OF OUR INVESTMENTS CAN BENEFIT YOU.
---
Visions Uniqueness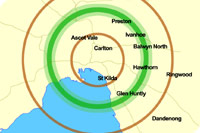 Vision Developments is one of Australia's most unique property development groups and has invested in more than $70 million worth of Melbourne blue chip property. We develop townhouses and apartments in some of the most secure middle-ring suburbs of Melbourne such as: Hawthorn, Preston, Mont Albert, Balwyn North and Box Hill.
We focus on residential properties in these areas as they provide good returns and consistent growth, with less risk than the inner city and outer suburbs.
---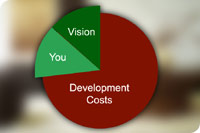 You may be asking, "What makes us different from every other developer?" Our difference is that we share the profits from our developments by including instant equity on the property value. Having this in-built equity in combination with our unique purchase structures typically provides our clients with benefits of up to 15% on the property value. For investors and owner occupiers this can amount to $70,000 in in-built equity.
---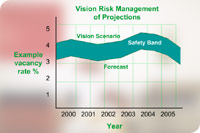 At Vision Developments, risk management is one of our major priorities. With current property market conditions in a questionable state where growth may slow in the short term, Vision's profit sharing arrangement becomes a highly important aspect to low risk property investment.
For example, if the previous year's growth for an average apartment in Hawthorn was 17 % (and you then purchased a Vision property) and the market now slowed to a conservative 2% for the next 12 months, you could still achieve up to a 17% benefit for the year on the existing property valuation. This safety net developed by Vision ensures that our valued clients face less volatility and achieve peace of mind.
Vision's accredited staff, who work alongside accountants and financial planners, have developed a number of structured financing strategies to maximise your required cashflow position whilst reducing the term of any non-deductible loans.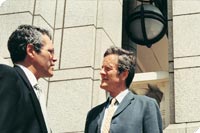 When preparing a statement for our clients about how they will be placed financially when purchasing a property, we create a number of scenarios utilizing varied market projections. This process ensures that any unforseen circumstances are taken into account in order to minimise risk. For example, if the projected vacancy rate for the next two years is 3%, then we will have a scenario that looks at a 4% vacancy.
Finally, our expertise in project management from acquisitions through to completion ensures that you achieve certainty in delivery of your investment.
At Vision Developments, our emphasis on risk management ensures that your satisfaction is our highest priority.
---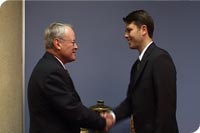 The Vision philosophy has always been to build long term relationships with our clients and become their partner in the creation of wealth. We do this by acting as an educator and facilitator in helping them to achieve their investment and lifestyle goals.
Quite simply, we are more interested in working with our clients to help them achieve their financial security, than trying to sell property to anyone and everyone. Many of our clients have completed multiple purchases through Vision Developments and, as a result, are on the way to securing their financial future.
---