Vision Developments - Equality - Integrity - Trust
Be the architect...of your own future
---
Top Navigation
---
---
Newsletter Subscribe
To receive our monthly newsletter containing the latest market information, tips and construction reports, please enter your name and email address below and click the submit button:
---
St Kilda Member Offer
Vision Developments is proud to announce its corporate partnership with the St Kilda Football Club for the 2005 AFL premiership season.
Click here to read more
---
First Home Buyers
The Vision Contribution
Vision Developments now offers a minimum $12,000 in contributions for First Home Buyers to help you overcome many of the hurdles associated to purchasing a first home. These contributions can be up to $40,000 and vary with each individual development. For more details please click here
First Home Buyer Information Sessions
Are you unsure of the process and costs involved in purchasing a property? Not quite certain if you are eligible for the First Home Owners Grant? If you would like your questions answered then you should look at attending one of Vision's free information sessions. Click here for more details.
Complimentary First Home Buyer DVD
Are you interested in knowing more about the importance of purchasing your first home? Want to live in a more established area of Melbourne and not out in the sticks? This DVD outlines some options that are available to you. Click here to request your complimentary copy.
---
IS TIME RUNNING OUT?
AFFORDABILITY IS MAKING IT INCREASINGLY DIFFICULT FOR FIRST HOME BUYERS TO ENTER THE MARKET. IT MAKES SENSE FOR FIRST HOME BUYERS TO TAKE ADVANTAGE OF THE VARIOUS GRANTS AND CONTRIBUTIONS THAT ARE NOW AVAILABLE TO THEM AS THEY MAY NOT BE AVAILABLE FOREVER…
---
Why Buy a Home?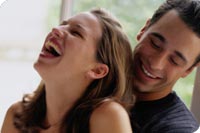 These days many young Australians are delaying the purchase of property, particularly their first home. In fact, ABS statistics show that in 2001, only 15% of home owners or buyers were aged between 15 and 34, a drop from 22% seen in 1981. This swing could largely be attributed to the difficulties associated with affordability of property in more recent times.
This shift highlights the decreasing capacity for young Melbournians to enter the property market.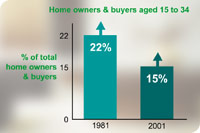 Historically, property has doubled every 7 - 10 years over the past 140 years. This is a growth rate of approximately 8% per annum. Based on the historical property growth average of 8% per annum, a property valued at $300,000 today should be worth approximately $2.05 million in 25 years time.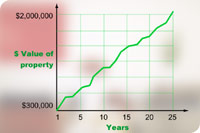 Vision Developments now provides young Melbournians with the ability to purchase an affordable home in popular and secure areas, so that they too can begin their path to building wealth and securing a strong financial future.