Vision Developments - Equality - Integrity - Trust
Be the architect...of your own future
---
Top Navigation
---
---
Newsletter Subscribe
To receive our monthly newsletter containing the latest market information, tips and construction reports, please enter your name and email address below and click the submit button:
---
St Kilda Member Offer
Vision Developments is proud to announce its corporate partnership with the St Kilda Football Club for the 2005 AFL premiership season.
Click here to read more
---
First Home Buyers
The Vision Contribution
Vision Developments now offers a minimum $12,000 in contributions for First Home Buyers to help you overcome many of the hurdles associated to purchasing a first home. These contributions can be up to $40,000 and vary with each individual development. For more details please click here
First Home Buyer Information Sessions
Are you unsure of the process and costs involved in purchasing a property? Not quite certain if you are eligible for the First Home Owners Grant? If you would like your questions answered then you should look at attending one of Vision's free information sessions. Click here for more details.
Complimentary First Home Buyer DVD
Are you interested in knowing more about the importance of purchasing your first home? Want to live in a more established area of Melbourne and not out in the sticks? This DVD outlines some options that are available to you. Click here to request your complimentary copy.
---
Lifestyle and Location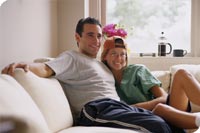 Many developers are now offering new homes with no or low deposit. However, as you've probably noticed, most of these are located on the edge of the city limits, far from where many of us would choose to spend our time.
We understand that as young Melbournians and First Home Buyers, you'd rather have the opportunity to get into the property market and buy a low deposit home in a central location; closer to the places you like to shop, eat, exercise and socialise with friends. After all, who wants to spend hours in the car each day commuting to work and other events when you could be using that valuable time to do the things you enjoy most.
Vision Developments carefully researches and selects suburbs that will not only provide you with a superior metropolitan lifestyle, but are traditionally a far better investment option for both rental and capital growth. In addition to this, these homes generally require less maintenance than other First Home Buyer packages on the market, as well as being easier to rent due to the central location. The benefits of this, for example, may provide you with the freedom and peace of mind to spend a year travelling overseas or relocating interstate for work. This freedom may not be as possible with an outer suburbs home, mainly due to the volatility of renting this type of property and at the same time having to juggle your mortgage repayments. The increased peace of mind and flexibility provided by a Vision Developments' First Home Buyer package ultimately provides you with greater liberty to live life in any which way you choose.