Vision Developments - Equality - Integrity - Trust
Be the architect...of your own future
---
Top Navigation
---
---
Newsletter Subscribe
To receive our monthly newsletter containing the latest market information, tips and construction reports, please enter your name and email address below and click the submit button:
---
St Kilda Member Offer
Vision Developments is proud to announce its corporate partnership with the St Kilda Football Club for the 2005 AFL premiership season.
Click here to read more
---
Property Investment
Interested in property with immediate equity?
Unlike most other developers, Vision Developments shares the profits from our developments, providing our investors with immediate benefits. We do this because our aim is to build win-win relationships with our clients that provide long term advantages for both parties. For more details please click here
Client Education & Information Sessions
Vision Developments is currently holding a range of information sessions for investors and potential investors. This service is an integral part of our goal to become an educator and facilitator to our clients, helping them to achieve their investment and lifestyle goals. For more details about these sessions please click here.
Complimentary Investor DVD or CD-ROM
Are you interested in knowing more about the importance of building wealth for your financial future? Would you like to know more about Visions' immediate equity offer? This DVD outlines these topics and more. Click here to request your complimentary copy.
---
INVESTORS & OWNER OCCUPIERS
LOOKING FOR AN EXCEPTIONAL INVESTMENT OPPORTUNITY? ARE YOU INTERESTED IN UP TO $70,000* OF IMMEDIATE EQUITY? CONTACT US TODAY ON 9880 7155 TO FIND OUT HOW ONE OF OUR INVESTMENTS CAN BENEFIT YOU.
---
Financial Secruity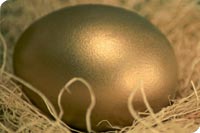 Today, it's more important than ever to prepare funds for your own retirement. Below are some alarming facts that illustrate the lack of financial security that many people face when approaching retirement:
80% of retirees are living on less than $20,000 p.a
(P. Smith, CEO Association of Superannuation Funds).
Only 5% of the population can lay their hands on $10,000 at the age of 65
(Australian Bureau of Statistics).
Consolidation loans and reverse mortgages are becoming more prominent. These types of loans are like a mortgage in reverse where you are drip-fed money from a lender who ends up taking all the equity of your home.
For every person over 65, there are now five people of workforce age, but by 2021, this will fall to three people of workforce age. This situation places further pressure on taxpayers to fund pensioners and our ageing population into the future.
(Annual Report 2001-02, Environmental indicators and analysis Department of Family & Community Services.)
Today's average 50 year old has only $2,300 saved towards their retirement
(J. Urcivoli, Senior Vice President, Merrill Lynch).
1 in 6 people who have not yet retired in the prime working age category of 25 to 54 years have no superannuation
(Australian Bureau of Statistics).
Due to these and other alarming statistics, the Government has outlined plans to encourage older Australians to remain in the workforce longer. The Federal Treasurer, Peter Costello, has stated, "We need to move away from the concept of early retirement or full-time retirement. We need concepts such as part-time retirement…"
(The Age, 25th Feb, 2004).
Having to rely on a limited superannuation fund and part-time work, may mean that the full retirement you had planned to enjoy might not be possible. By investing wisely now, you can take comfort in the fact that your retirement strategy gives you the opportunity to be become financially independent and to enjoy life with those that matter most.
The choice is yours!