Vision Developments - Equality - Integrity - Trust
Be the architect...of your own future
---
Top Navigation
---
---
Newsletter Subscribe
To receive our monthly newsletter containing the latest market information, tips and construction reports, please enter your name and email address below and click the submit button:
---
St Kilda Member Offer
Vision Developments is proud to announce its corporate partnership with the St Kilda Football Club for the 2005 AFL premiership season.
Click here to read more
---
Current Developments
Are you struggling to save a deposit for a home of your own? Vision Developments is now offering Melbourne First Home Buyers a market first opportunity: to purchase a new home, with very little or no deposit, in an established area. Click here to find out more.
Looking for an exceptional investment opportunity? Are you interested in up to $70,000 of unlocked equity? Click here to find out more about how a Vision Developments investment can benefit you...
At Vision Developments our philosophy has always been to build long-term relationships with our clients and become their partner in the creation of wealth. We do this by acting as an educator and facilitator in helping you to achieve your investment and lifestyle goals. Click here to find out what makes Vision unique.
---
Current Development Opportunities

These innovative architecturally designed apartments include one, two and three bedrooms.

This innovative apartment development comprises twenty stunning architecturally designed apartments.

This 22 Townhouse site comprises two, three and four bedroom single and double story homes.

A contemporary styled three-storey residential apartment building to comprise of fifteen apartments and a basement level car park.

Four luxury townhouses including three 3 bedroom houses and one 2 bedroom house.
---
Mary St, Preston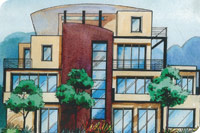 Promising sweeping views of the city skyline, this innovative apartment development comprises twenty stunning architecturally designed apartments. This includes combinations of one, two and three bedroom apartments as well as two bedrooms with office (including separate entrance), a commercial premise and secured parking.
The site is situated on the eastern side of Mary Street, forming part of the municipality of Darebin, suburb of Preston. It is located a short distance west of High Street and a little further west is St. Georges Road. To the north of Mary Street is Cramer Street and to the south is Bell Street. The location is approximately 9 kilometres from the Melbourne CBD.
The immediate precinct is mixed residential and commercial offices and shops. Opposite the site are extensive recreational areas including the Preston Oval and playgrounds. The area features a variety of education institutions including the Northern Melbourne Institute of TAFE, Preston Campus (located in St. Georges Rd.), Preston Girls Secondary College (David St.), Primary School (Gower St.), Catholic School (Clifton Grove), as well as a pre-school centre (Wood St.). This site is within close proximity to a variety of retail facilities including the extensive High Street shopping strip and the popular Preston Market Precinct in Cramer Street, extending north to Murray Road. Northland Shopping Center is a 5-minute drive away. Public transport is accessible via train service within walking distance between Cramer Street and Murray Road, adjacent to the Market. There are also extensive bus services via High Street and Bell Street, plus tram service via Plenty Road, Preston.
This is an excellent investment opportunity largely due to the increasing demand from people in suburbs such as Carlton and Fitzroy seeking affordable contemporary accommodation close to the city. The growth in population in the Northern Corridor should increase property demand considerably over the next few years resulting in substantial price growth.